Congratulations to the Winners of the 2023 Ocean Awareness Contest: Climate Heroes in Action!
November 19, 2023
Message from Founder and President Linda Cabot
"The role of the artist is to make the revolution irresistible" – Toni Cade Bambara
Artistry is transformative for both the creator and the viewer. At Bow Seat, we are continually amazed by our students and their creative works. These creations are as striking and imaginative as they are inspiring and informative. But it is not all about the completed works for us – it is how our students learn, grow, and feel transformed through the process of creating. Every year we pick our Contest theme with the intention of also providing a uniquely meaningful and empowering student learning experience.
Protector of the Amazon by Agnes Lee (Buena Park, CA), Silver Award in Senior Visual Art
Our Climate Heroes theme was chosen to show teens that the world is full of caring, dedicated people who are committed to finding climate solutions. We know we live in uncertain times, when teens often feel overwhelmed and discouraged. Our hope was that Contest participants would feel inspired by selecting and researching a climate hero to celebrate. We wanted students to feel a renewed sense of optimism by learning about the many people doing incredible things to help protect our environment. We wished that, while actively imagining, designing, and creating their pieces, students felt more personally and deeply connected to what they were learning about and experiencing.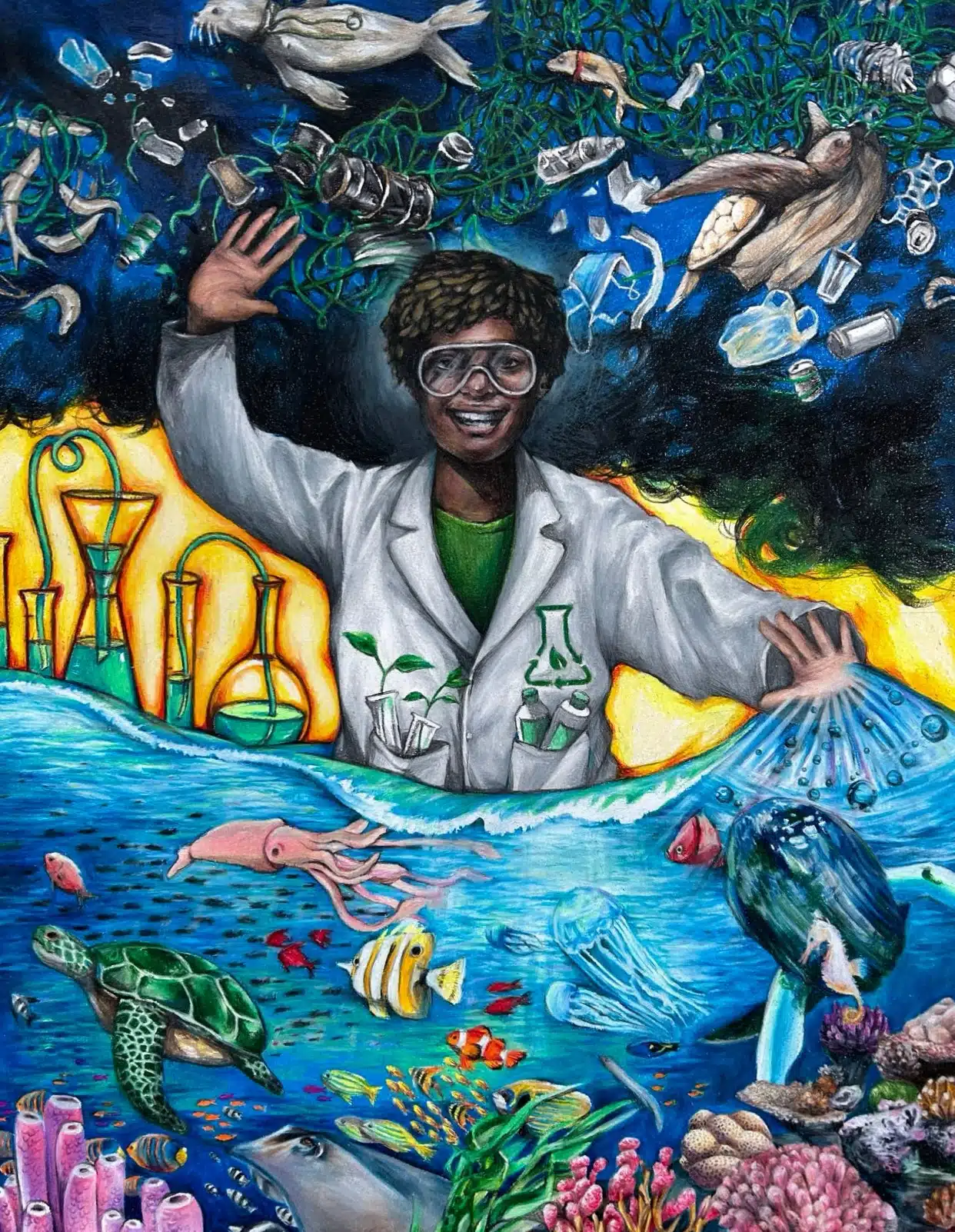 Beautiful Mind in Power by Sarah Peng (Calgary, Canada), Pearl Award in Senior Visual Art
Finally, after months of judging, we are ready to announce our winners! We love celebrating their achievements, as well as those of everyone who participated. Above all else, we are an imaginative learning community of student voices that together has created the world's largest youth environmental program for the creative arts. There is regenerative power in creating a community where young people are leading a powerful, artistic movement for our blue planet. Thank you for joining us – and welcome to the Bow Seat community!
"All that you touch, you change. All that you change, changes you. The only lasting truth is change." – Octavia E. Butler
In solidarity,