How to Pick a Climate Hero
January 18, 2023
Featured Image: "Climate Strike" by Anna Thompson (Illinois, USA)
You've been challenged to pick a climate hero to feature in this year's Ocean Awareness Contest: Climate Heroes in Action!
Perhaps you already know who you will feature, but if you don't, here are some tips to help you choose your climate hero!
What is a climate hero? Climate heroes are real people doing amazing work to make a difference for our blue planet! There is no one way to be a climate hero: they can be scientists, artists, activists, community organizers, etc. One thing they all share in common is the belief that the climate crisis can be reversed if we all contribute our skills and commitment.
Before you pick a hero, we recommend thinking about what you are passionate about and already have an interest in. For example, let's say you love surfing; start by simply Googling "climate change" and "surfing" to see what pops up. We found an excellent organization called the Surfrider Foundation, and on their team page we discovered the surfer Dr. Chad Nelsen, who is doing important advocacy for clean ocean energy.
Say you love making videos. Research and watch some climate change documentaries like Years of Living Dangerously, and you will discover the incredible Emmy award-winning director and climate activist Joel Bach.
"Habitats from Habits" by Ishanvi Kommula (California, USA)
Or perhaps you love fashion and are interested in reducing fast fashion waste. There are designers like Clarisse Merlet, who has started a company making decorative and insulative bricks from discarded clothing. Nina Gbor founded Eco Styles to educate consumers on ethical fashion, and to help people find their own sustainable styles.
We also encourage you to think of people you know or who are in your community. Perhaps you know someone who has started a local composting company or someone who upcycles, or maybe a local restaurant owner donates extra food to a food pantry.
Another tip is to research organizations and projects that you already know about or are curious to learn more about. Maybe you have been interested in youth groups like the Sunrise Movement. Find their site online and discover their various campaigns and the students who are leading them.
Check out the instagram feed of @eco.medy for more hero ideas or explore Bow Seat's Climate Heroes!
Once you find someone whose work you find interesting, you will have to think about how to incorporate them into your submission. This is where it can get really fun!
Be exploratory and enjoy the process of uplifting your hero in a creative way that makes sense to you.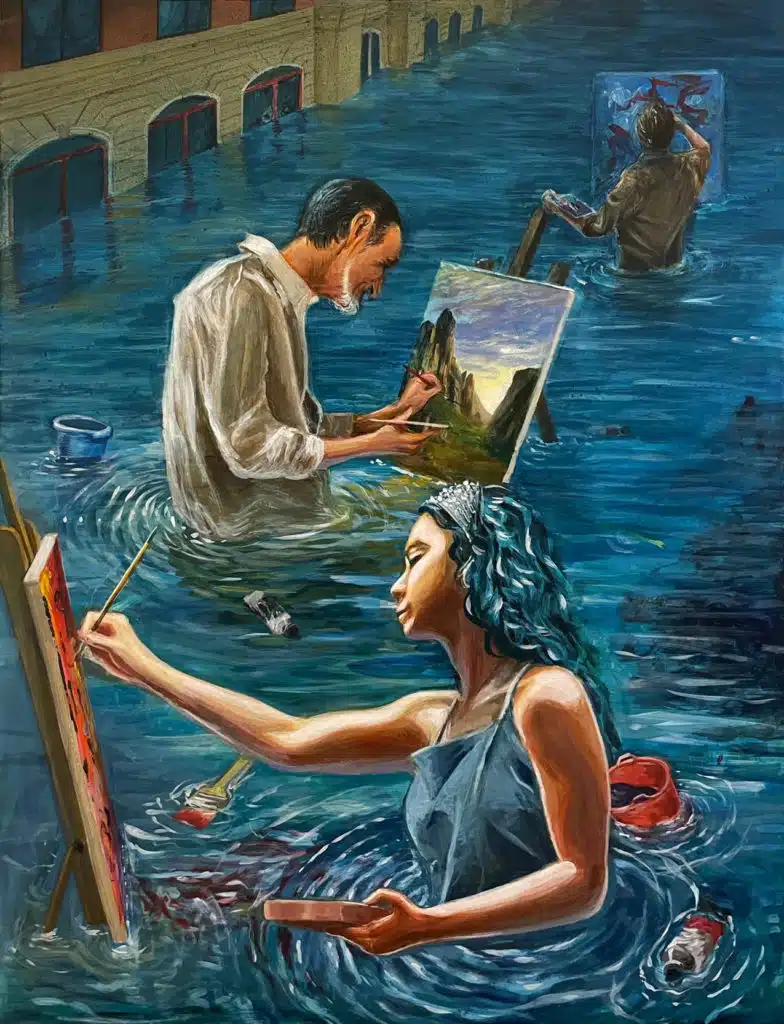 "Painting for Hope" by Chantilly Lee (New Jersey, USA)
If you are entering in the Visual Art category, you could create a portrait out of plastic waste, paint a scene of your hero in action, or draw the impact they hope to achieve. For Creative Writing, you could include your hero as a character in a fictional story about a small town facing the wrath of the infamous villain, Big Oil. For Poetry & Spoken Word, you could write a poem about your hero's passion or portray the urgency of your hero's ambition. For Performing Arts, you could embody your hero's tenacity and dedication through dance or compose melodies that reflect the hope and change your hero is creating. There are no hard and fast rules, as this Contest is about honoring your hero in a way that reflects your creativity and artistry.